Windham Millwork Timeline
Walter Pulkkinen founded Windham Millwork in 1957 after mastering the "orders of architecture" with the large molding facility, Wadsworth Boston. His personal values continue to guide Windham Millwork even as the company embraces the latest technology and systems. Walter's promise to his clients was:
"We will achieve 100% customer satisfaction for every product we sell. We will be relentless in the pursuit of that goal and will never vary from the principles of customer satisfaction…quality, value, and company image."
Highly skilled and competent people joined Walter to build this company and its continuing legacy. Everett McKenny served as Plant Manager for 19 years, and Walter Johnson served as Head Designer for equally as long.
From inception through the 1960s, Windham Millwork employed approximately 20 people and operated a 15,000 square foot facility. However, the business began to grow, and Windham Millwork began to expand. By 1968, Walter added an additional 12,000 square feet of production space.
Second Generation Leadership
In the late 1970s, Walter retired and sold Windham Millwork to his son, Bruce, and Head Designer, Walter Johnson. Bruce and his partner successfully grew the company from a revenue of $700,000 in 1980 to $4.2 million in 1987. The company added an additional 20 skilled team members and another 12,000 square feet of production space.
Windham Millwork thrived under the second generation of leadership. Technology evolved, and the company adopted a business model to transform its production operations into a lean, highly automated facility. After adding more square footage to the main facility, Windham Millwork completed the purchase of two adjoining properties. This acquisition expanded its capabilities to include laminating and pre-built projects ready for delivery.
Windham Millwork, Inc was one of the first Architectural Woodwork Institute (AWI) members to achieve Premium Grade Certification for all the products and services the company provides. In addition, the company maintains Premium Certification for all AWI disciplines. Windham Millwork is proficient in producing work that meets LEED standards, and the company offers 3D Inventor Auto-Cad drawing and automation through its design department.
Third Generation Leadership
Now, the third generation of Pulkkinens has joined Windham Millwork along with key managers taking ownership positions. Bruce's sons, BJ and Chad Pulkkinen work alongside the rest of the team as owners and partners. As a visionary CEO, Bruce continues to lead an exceptional company that produces superior millwork.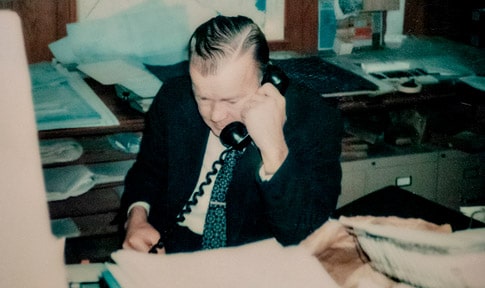 McDonalds Lumber which produced amunition boxes for the
war decided to close the cabinet shop, Walter Pulkkinen who currently worked for McDonald Lumber, put together a deal with Dr. Laurel Jones, who owned most of the local properties in Windham, to buy the small cabinet shop from McDonald Lumber. Windham Millwork was then established.